Protecting Your Training Investment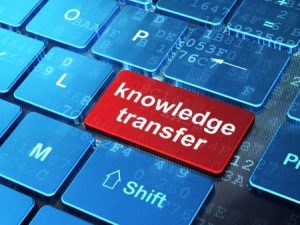 Ever wonder why your organization does training one month and the next month everyone is back to their old habits?
Transfer of learning (TOL) is an important aspect of training – getting participants to actually use the skills, knowledge and abilities that were presented during a training program. TOL needs to happen before, during and after training happens.
This safety net maximizes the learning and places accountability on the participant.
Before Training

— To increase TOL, the supervisor should meet with the participant to discuss specific goals and expectations for the upcoming training. During the meeting, the supervisor would review the pre-work materials and course objectives—especially highlighting the participant's growth areas. Additionally, the supervisor may discuss some ways the participant can share the material after the training (e.g. . conduct a brief during the next team meeting, prepare a written document, etc.). How exactly will the participant bring back the learning?

During Training

— The supervisor should "check in" with the participant to see how the training is progressing. By doing so the supervisor may be able to provide encouragement and support for any discomfort the participant may be having outside his/her comfort zone.

After Training

— In a one-on-one coaching session, the supervisor and training participant will work together to set key performance goals based on the learning. These key performance goals would be specific and tied to a timeline. The supervisor will also need to explore the areas of learning and how they may improve the organization as a whole. At this meeting a date/time will need to be set for sharing the information (or an aspect of learning) with the team.

Ongoing

— The supervisor has many responsibilities after sending the participant to training. These include: monitoring the use of the new skills through observation, feedback and coaching, making sure that the appropriate tools are available for success and ensuring incentives for goal accomplishment are in place. The supervisor's ongoing support and offering of resources are critical to ensure the participant keeps the learning fresh.
Resource: MAQ Exchange, "Transfer of Learning"