Building Your EQ Advantage with Happiness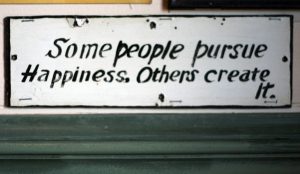 Quick — right now — write down ten things that make you happy in your life.
Were there any work related items on that list?
Strength in the Emotional Intelligence competency of happiness has been associated with high performance on the job. Additionally, happiness is critical for building high performing teams and work groups.
In a study (Scientific American) by David Myers and Ed Diener, happy people are less self-focused, less hostile and abusive. The researchers found that factors such as age, gender, race or economic status were not good predictors of happiness. Instead that happiness comes down to how you are affected by life changes and how you adapt to them.
Happiness, as defined by the EQ instrument, is the ability to feel satisfaction with your life, to enjoy yourself and others and to have fun. It is also associated with enthusiasm, cheerfulness and feeling at ease at work and at leisure.
Happiness is considered to be a by-product and barometric indicator of one's overall degree of emotional intelligence. It also influences and is influenced by other EQ competencies such as Reality Testing, Interpersonal Relationship, Self-Regard and Self-Actualization.
One thing is certain — Happiness comes from the outside in. So increasing this emotional intelligence competency takes a conscious effort with purposeful actions.
Here are some suggestions from the Mayo Clinic Health Solutions newsletter on building happiness.
Count your blessings on a regular basis.
Show gratitude toward others.
Take pleasure in what you can do and have done.
Exercise.
Take time for what matters.
Volunteer. Devote time to meaningful causes.
Take pleasure in small things.
Spend time with positive people. It rubs off.
Practice relaxation techniques.
Strengthen ties with family, friends, and co-workers.
Don't compare other people's lives with yours. When you envy someone, ask yourself "How can I create more in me of what I see in him or her?"
Happiness is a dynamic state of choosing how we think, feel and act. You create your own road map every day. Seek fresh starts, time to reflect, growth opportunities and quality relationships.
Remember, your happiness is shown in every aspect of how you contribute at work — your productivity, your leadership style, your career potential, your willingness to form effective relationships and much more!
"Success is not the key to happiness. Happiness is the key to success."

Albert Schweitzer