What is
Unintentional

Intolerance?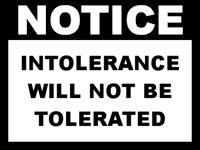 Today's workplace has a broad range of religious and political beliefs, genders, cultures, generations, races and lifestyles. These powerful aspects of others and ourselves provide daily communication and connection challenges.
Without thinking we could easily appear intolerant and insulting. Our actions can be "lost in translation" without self-awareness and sensitivity.
In the article, "Can You Speak the Language of Business with other Cultures?", by Elisabete Miranda, the author outlines ways to support diversity and educationally grow in understanding others.
Suggested actions include:
Go to three events each year where you are in the minority.

You'll stretch your comfort zone and learn a lot. Other possibilities include: taking a class, visiting a place of worship, or learning a new language.

Make time to get to know co-workers.

Especially those who you perceive as "different" from you. Look beyond first impressions.

No matter how different someone's culture seems, avoid judgments.

Do not participate in slurs and jokes.

Examine your feelings.

Realize your prejudices and squarely face them. Some of our reactions are deeply rooted. Ask yourself why.

Don't assume everyone looks at things and feels the same as you do.

Remind yourself that life experiences cause people to have different perspectives. Use empathy to listen and look beyond the surface.
Source: Spring/Summer 2008 DiversityBusiness.com
"Almost everyone has a family member, friend or co-worker who tells the same long stories many times. Instead of tensing up and becoming stressed when you're listening to the same story yet again, relax and think of the pleasure that person is getting out of telling it."

Resource: Mayo Clinic Health Solutions newsletter, November 2008